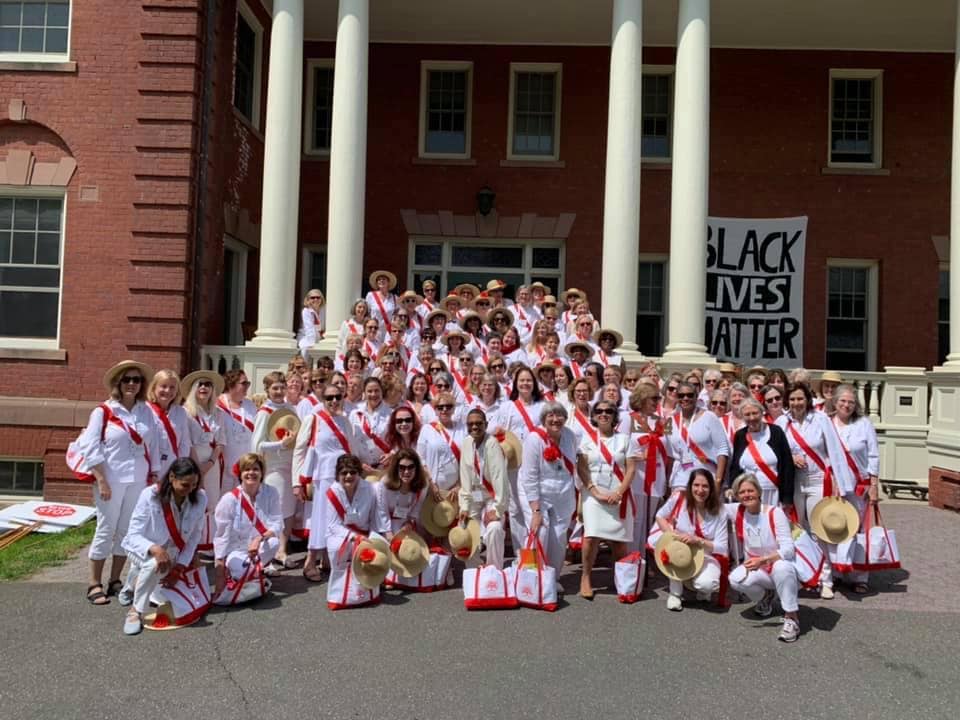 50th REUNION DATE:
SAVE THE DATE – our 50th Reunion will be held May 16-19, 2024! Many thanks to classmate Lisbeth Bornhofft for designing our beautiful milestone reunion logo.
REUNION CO-CHAIRS:
Chris Albright (Belmont, MA) – albfog@aol.com; (917) 348-2135
Anne Wing Hamilton (Milwaukee, WI) – annewing.hamilton2@gmail.com; (414) 704-0890
Cindy Britten Martin (Mystic, CT) – cynthiabmartin@gmail.com; (908) 578-4329
REUNION BOOK:
BREAKING NEWS!! It's time to send in your class book submission!
As part of our upcoming 50th reunion (May 16-19, 2024), we will be publishing a commemorative reunion book – and we need your help to ensure its success.
We are working with MENO REUNION BOOKS, a Smith College-approved vendor, to publish this volume. Meno has created an online template that will be simple for you to fill out. You should have received an email containing a link to the template from MENO REUNION BOOKS. If you did not, check your spam folder. Also, make sure your listing in the Smith Alumnae Directory is up-to-date, with your current email address. If you did not receive the template email, let us know and we will have Meno resend it. Expect to receive additional emails from Meno as the project progresses.
Each of you will have your own page on which you can share your thoughts about your time at Smith and your life since leaving college. We have all experienced triumphs and faced challenges in the past fifty years. Whatever path your life has taken, your classmates want to celebrate the journey with you.
When it is completed, the book will be available to everyone in digital form. The digital version will be an easy-to-search resource for locating classmates and discovering common interests. We also plan to publish it in print and will update you regarding availability and cost as plans progress.
If you have questions, feel free to contact any of us. We hope you will fill in your templates and return them promptly. Together, we can make this class reunion book a keepsake we will all treasure!
Your Reunion Co-Chairs (Chris Albright, Cindy Britten Martin, Wing Hamilton) and the Reunion Book Team (Bobbi Keiler, Cathy Farrington Haukedahl, Mary-Lou Kiley, Kathy Piro, Terry Taylor)
HOUSE CONNECTORS:
Sadly, we are missing contact info for over 30% of our classmates. It will be important for us to have your most current contact information as we work together in preparation for our 50th. Please send your information to Smithierecords@smith.edu. Our intrepid House Connectors (thank you!), listed below, are leading the effort to reach all classmates. We still need house connectors for Comstock, Dawes, Gardiner, Lamont, King, Scales, Tyler, Wilson, and Ziskind. Please consider volunteering for this role – you don't need to have resided in the house to be a house rep and you can have a co-connector!
Our House Connectors
150 Elm – Linda Gray
Albright – Beatrice Peck
Baldwin – Christy Jones Bittenbender
Capen – Sarah Meredith Boucher; Elisa Maselli
Chapin – Mary Kilbourn; Marsha Shaines
Chase – Cynthia Roney
Clark – Barbara Bockhaus Klaas
Cushing – Martha McKee
Cutter – Roberta Klein
Dewey – Mary-Lou Kiley
Drew – Lisa Griffith Lake
Duckett – Margaret Davidson
Emerson – Maureen Kelley DelVecchio
Gillett – Stephanie Star
Haven – Diane Kelly Welch
Hopkins (All) – Jennifer Arbolino
Hubbard – Sara Lane
Jordan – Betty Morningstar
Lawrence – Rose Tamura
Morris – Jane Spinak
Morrow – Roz Twine Wilson
Northrop – Linda Gray; Elizabeth Payne
Off-Campus – Jan Loftsgaarden Johnson
Park – Mathilde Silverstein
Parsons – Bonnie Lederman
Sessions – Ruth Eliel
Talbot – Molly Goodwin
Tenney – Karen Freisem
Tyler –
Washburn – Patricia Jones Lang; Ellen Sandhaus
Wilder – Denise Silber
Ziskind –
CLASS BOOK TEAM:
50th reunion classes traditionally produce a class book with classmate bios and highlights of our years at Smith. Our class book team, listed below, is busy working on content that will send you down memory lane. They will be contacting everyone in early 2023 for submissions. All classmates will receive a digital copy of the book. Printed copies will also be available.
Bobbi Keiler
Kathy Piro
Mary-Lou Kiley
Cathy Farrington Haukedahl
Terry Taylor
PHOTO WALL:
Sarah Collins Honenberger has volunteered to develop a photo wall that will capture classmates' campus memories, personal adventures, discoveries, accomplishments, mini-reunions, and more. Photograph your book covers, artwork, gardens, vacation scenes, grands, Smith visits, and friends. Please email jpegs (less than 2 MB) with a message identifying who, when, and where to Sarah Collins Honenberger at editmore2@hotmail.com. Continue to watch the '74 website and FB page for updates and postings and be prepared for a spectacular collage wall at reunion. We'd love photos from every classmate that reveal the personalities of the Great Class of 1974!
Reunion Planning
Your 50th Reunion Chairs are keeping busy! We have been organizing regional mini-reunions and working with House Representatives on class outreach.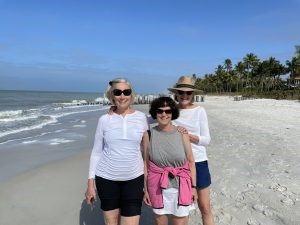 In March 2022, we met in Florida and had a chance to connect with a few classmates.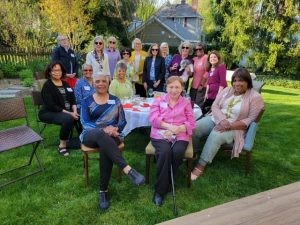 On April 30th, 2022, we hosted a mini-reunion in the DC Metro area at the home of Marsha Shaines. Class President Linda Smith Charles and 12 classmates attended. Connecting with each other was fun and stimulating, as all gatherings of Smith women are! For more pics check out our class Instagram @smith_class_of_1974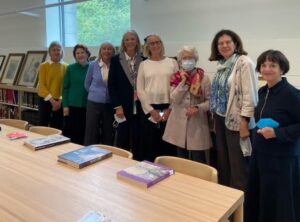 Our September mini-reunion was held at the Art Institute of Chicago on September 18th, 2022. Class of 1974 classmates met with other Chicago area alums for a fun and informative gathering.
On October 27th, 2022, Mary Kilbourn hosted a lovely mini-reunion at her home in New York City. Smith Trustees Beverly Morgan-Welch '74 and Debbie DeCotis '74 gave remarks and a lively discussion ensued! 20 classmates attended.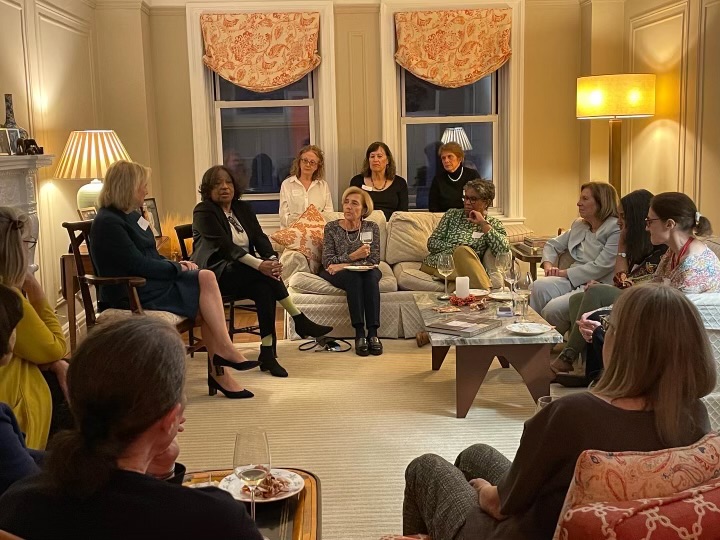 On October 30th,2022 Inez D'Arcangelo, our '74 Treasurer and Co-Fund Agent, hosted a fabulous wine tasting with Thanksgiving-themed hors d'oeuvres and an ice cream sundae bar at her home in Greenwich, CT. Kathy Piro gave an update on the class book project. 12 classmates attended.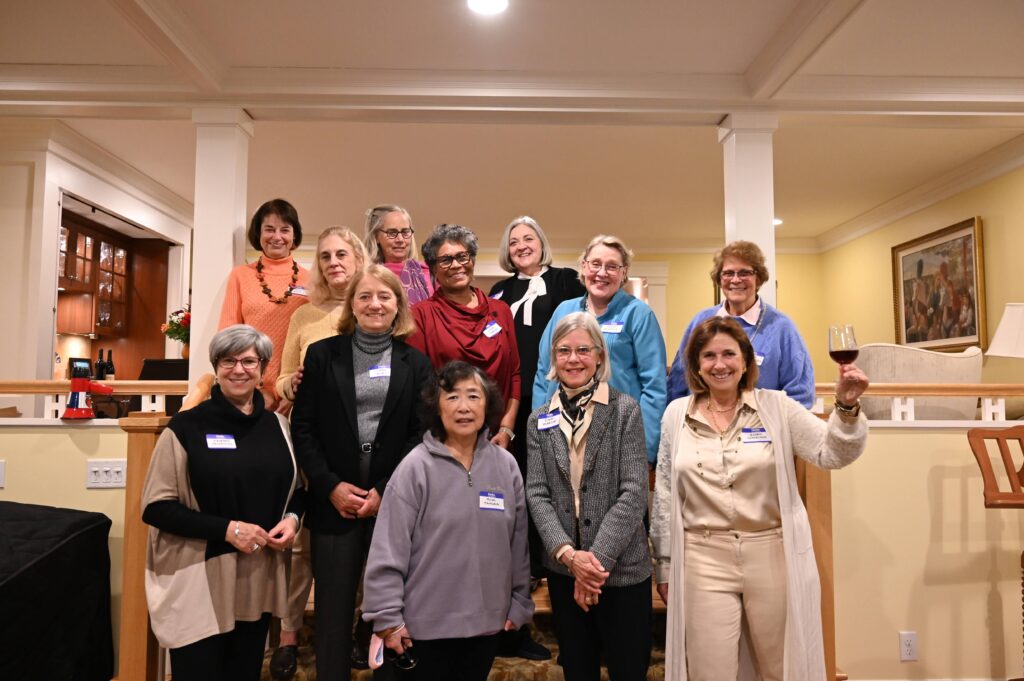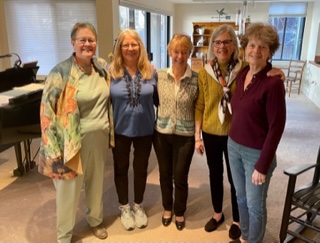 On March 11th,2023 classmates gathered at a brunch hosted by Sharon Voros at her home in Denver.
On April 15th, 2023 classmates gathered at the home of Ruth Eliel in Los Angeles.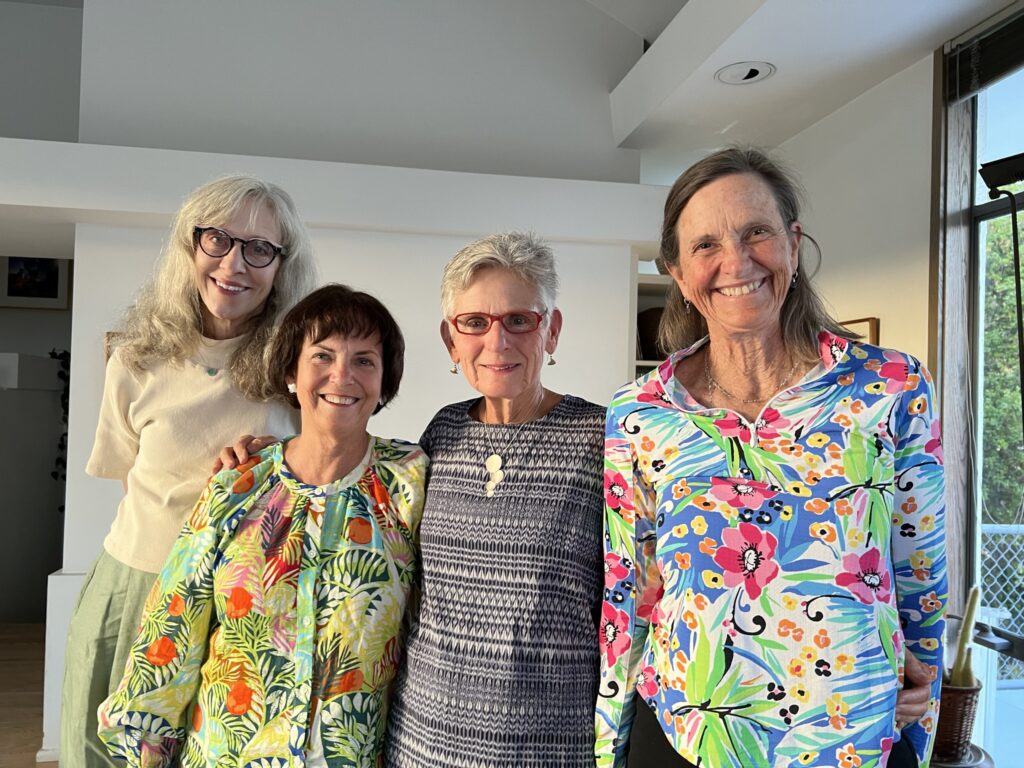 On May 24th, 2023 classmates met in Boston at the office of Lisa Howie, Chief Investment Officer for Smith. Lisa shared insights on the impact and priorities of the College's endowment.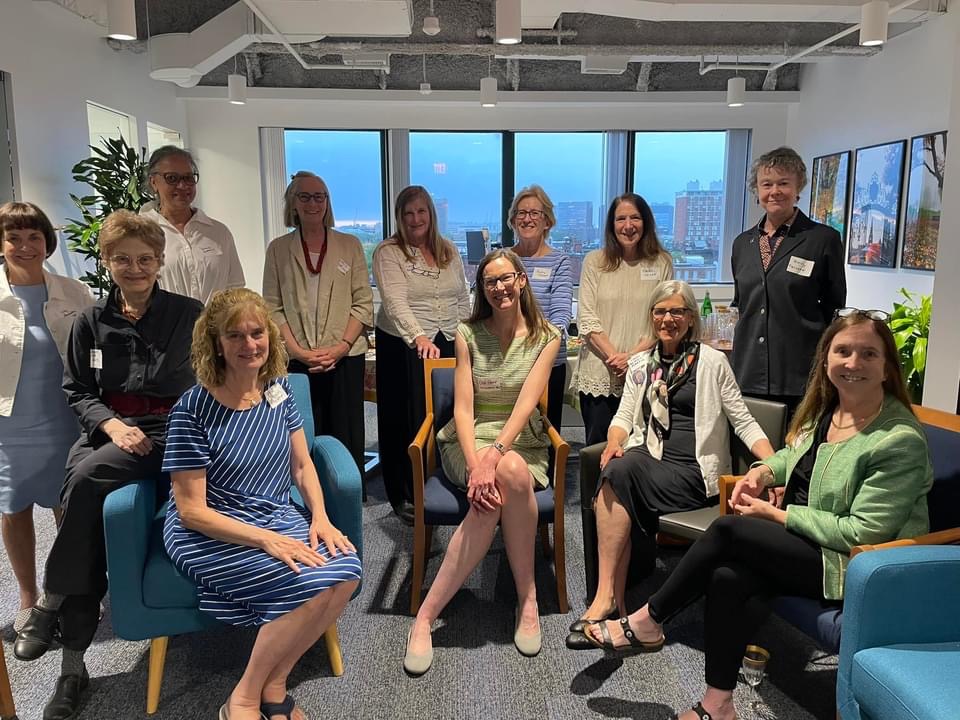 On May 25th, 2023 classmates participated in a Northampton area mini-reunion hosted by Molly Goodwin and Tina Ryman at the home of Tina Ryman.
Your Reunion Chairs had a great time at Reunion 2023 observing the Class of '73's activities and events in preparation for our 50th reunion in May 2024.